The John Lewis Christmas 2021 advert is here. Titled "Unexpected Guest" the much anticipated ad launched a week early this year. The retailer hopes to give people that warm Christmas feeling that John Lewis do best after many of us missed out on festive traditions last year in lockdown.
Making up for for the controversy around John Lewis' recent Insurance ad, this ad features a great cover song, a heart-warming story and more products than ever.
The advert tells the story of young boy Nathan who witnesses a UFO crash in a nearby forest while travelling home on a bus. When he investigates, he meets Skye, an alien girl who's very interested in learning about Christmas here on Earth.
Nathan shows her all the wonders of Christmas from flashing decorations to Christmas trees, mince pies and even snowball fights. As is custom to all M&S Christmas ads, this is all set to a haunting cover song as the soundtrack.
The music in the 2021 John Lewis Christmas advert
Music: Together in Electric Dreams (Cover) | Artist : Lola Young
The music in the 2021 John Lewis Christmas advert is a cover version of the 1984 hit song "Together in Electric Dreams" first recorded by British singer and composer Philip Oakey and Italian composer Giorgio Moroder. The song provided the soundtrack of the film 'Electric Dreams' that year.
The song reached number 3 in the UK Singles Chart staying in the chart for 13 consecutive weeks.
Who sings the M&S cover version of Together in Electric Dreams ?
The cover version of Together in Electric Dreams is provided by London-based singer-songwriter Lola Young. She now joins the prestigious list of artists including Tom Odell, Lily Allen, Ellie Goulding and Elton John who have provided the music for the John Lewis campaigns of the past.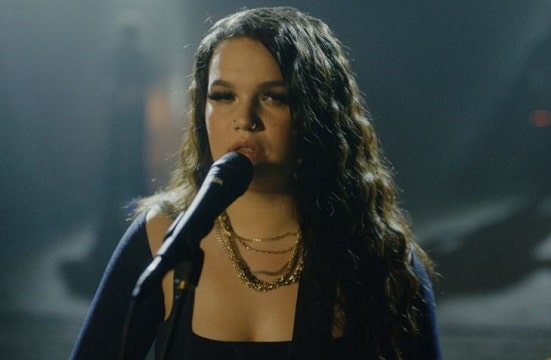 Young started writing songs at the tender age of 11. By the time she reached 13 she had competed in and won a national open mic competition, and cites Joni Mitchell and Prince as early influences.
She enrolled at the arts-focused Brit School in Croydon, south London, which boasts having schooled countless now established artists including Adele, Amy Winehouse, Raye and Loyle Carner to name a few.
Listen to the full cover version on Lola's official YouTube video: