This latest Avanti West Coast advert titled 'Feel Good Travel' features a tortoise having a good time skating around London and on in to the countryside on rollerblades. The message being that travel is about much more than the destination.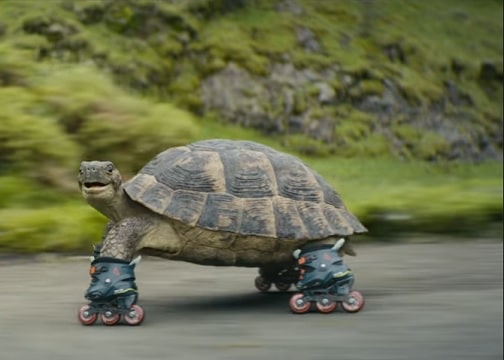 During it's travels, the tortoise cleverly filters through the busy city traffic through to a rural village (skating backwards!). Our friendly reptile then turns around to catch a bite from a fruit and veg stand while still skating. The ad concludes with the tagline 'This is how travel should feel'
The music in the Avanti West Coast advert
Music: Badala Zamana | Artist : Dihya (Zohra)
The music in the new Avanti West Coast Advert is a song called 'Badala Zamana' reocrded in 1977 by Algerian Chaoui singer and guitarist Dihya (real name Zohra). Born in Constantine, Zohra was raised hearing Arabic music and took up singing and playing the guitar.
After she and her family moved to the North of France, she continued her passion for music. It took an encounter with multi-talented instrumentalist, composer, arranger and conductor Joël Hannier to take her into the world of recorded music.
Listen to the full Badala Zamana song in this YouTube video:

Download track on Amazon Music:


Who are Avanti West Coast ?
Avanti West Coast are a train operating company formed in 2019 operating the West Coast Partnership franchise under joint ownership by FirstGroup and Trenitalia. It replaced Virgin Trains who had operated the InterCity West Coast franchise between 1997 and 2019.
Avanti West Coast will be terminated when the UK's train franchise system is finally abolished on 31st March 2026.