To find out about the 2021 John Lewis Christmas advert click here
John Lewis have launched this 2021 advert titled 'Let Life Happen' as they promote their Home Insurance product featuring a song by Stevie Nicks.
The commercial begins with a young boy with make-up on wearing a dress dancing around the house and making a mess. The free-spirited youngster paints his face and makes his way around the house climbing on furniture and throwing glitter around the place.
While all this is going on, the boy's mother and sister look on in bemusement but appearing to 'let life happen' regardless. This allows the boy to express himself as he pleases. However, we're not sure how an insurance company would react to any claims for damages in this kind of situation!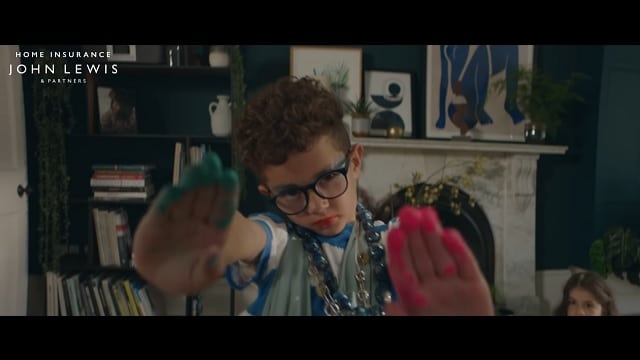 The ad concludes by saying 'Let Life Happen' and suggests that life's easier when you don't have any worries. John Lewis' flexible Home Insurance means you can make changes to your cover whenever you like.
As with all adverts that try to push the equality narrative to its limits, unfortunately this latest John Lewis ad has received some backlash. Some customers have accused the retailer of promoting sexism. Others have said that the story in the advert simply shows a boy being the centre of attention while he 'trashes' his home. meanwhile his sister and mother simply allows this to happen.
One viewer described the commercial as displaying "needless destruction, expecting the woman and the girl to sit in meek compliance."
This ad has certainly divided opinion. Political views aside, the launch of this commercial was a pleasant surprise given that the John Lewis 2021 Christmas advert is due to air very soon.
Who sings the music in the 2021 John Lewis Home Insurance advert ?
Music: Edge Of Seventeen | Artist : Stevie Nicks
The music in the 2021 John Lewis Home Insurance advert is a song called 'Edge of Seventeen' that was recorded in 1981 by American singer-songwriter Stevie Nicks. The song was released as the third single from Nicks' debut studio album 'Bella Donna'.
'Edge of Seventeen' features a distinctive, chugging 16th-note guitar riff (which is also used in the opening sequence to the Rocky song 'Eye Of The Tiger' by Survivor).
Some of you may recognise the tune from Destiny's Child's song 'Bootylicious' released in 2001 which sampled the riff from Edge of Seventeen.
Listen to the full track Edge of Seventeen' on Stevie Nicks' official YouTube video: