This new National Lottery advert for 2021 tells us that "when we all play a little, good stuff happens" whether it be community sports to keeping communities safe and bringing history to life.
The advert narrated by British television presenter Dermot O'Leary follows a man in a motorised wheelchair who has just played the National Lottery on his smartphone. We see the actor bravely trying out a skate park on his wheelchair. We then see him on the beach with cleaning tools in tow when he notices a clan of people dressed up as vikings headed his way.
The man then continues his adventure by smashing through a window in to a museum where his wheelchair has now acquired a drum kit. Things get wilder as he exits the museum just as Dermott explains how the lottery helps people to get out and explore the outdoors. His wheelchair turns in to a paraglider lifting him in to the air above the city.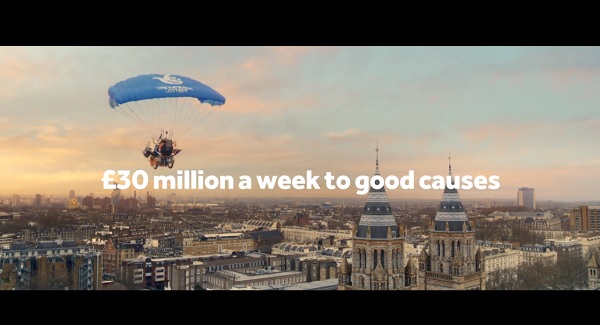 The 60-second commercial concludes by Dermott explaining that "thanks to National Lottery players £30 million a week goes to good causes". The slogan "Your numbers make amazing happen" then appears on screen.
The music in the 2021 National Lottery advert
Music: Three Is A Magic Number | Artist : Dob Dorough
The music in the 2021 National Lottery advert is a song called "Three is a Magic Number" by American Jazz musician Bob Dorough. The song is taken from his series of short, animated musical and educational films Schoolhouse Rock! The series aired during the Saturday morning children's programming block on the U.S. television network ABC.
American hip hop trio De La Soul famously recorded their track "The Magic Number" in 1988 who's chorus was based on Dorough's song. "The Magic Number" featured on their debut album '3 Feet High and Rising' and was later released as a single in 1989.