This Lloyds Bank advert still being aired through 2021 and 2021 again features the iconic Black Horse.
The advert continues the 'By Your Side' journey showing fishermen on their boats in an atmospheric morning light who notice the horse on the harbourside.
We then see the symbolic horse galloping alongside a steam train to the delight of a little girl. We then see the horse passing a group of cold water simmers as while they dive into a lake.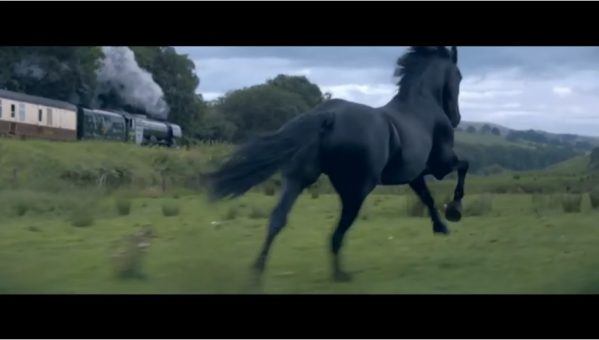 The commercial concludes as voice over says "By the side of a nation that never stands still. Lloyds Bank, by your side". The bank again sends the strong message that they have been looking after the nation for over 250 years and most especially now in these difficult times.
There has been some anticipation as to when Lloyds Bank's next campaign would be released. Their previous 'Epic Journey' commercial was released in May 2019 and they are normally released annually. No doubt the Coronavirus pandemic had an impact on how and when Lloyds would release their new advert in 2020.
What is the new Lloyds Bank advert music ?
Music: We've Only Just Begun | Artist : The Carpenters (cover)
The music in the Lloyds Bank advert is a cover version of the 1970 hit "We've Only Just Begun" by American vocal duo The Carpenters.

The cover version in the 'Forever Friends' advert is performed by English singer-songwriter Natasha Khan (aka "Bat For Lashes").