This new advert by Edinburgh Gin titled "Filled With Wonder" is a new TV campaign featuring a song by Frankie Valli.

The dreamlike debut TV ad is described as taking viewers through "a fantastical journey of flavour, capturing the brand's point-of-difference as a highly original but carefully considered gin maker". The gin and liquor brand offers the largest choice of flavours on the market including bramble and honey and lemon and jasmine.
The music in the Edinburgh Gin advert
Music: The Night | Artist : Frankie Valli and The Four Seasons
The music in the new Edinburgh Gin "Filled With Wonder" advert is the 1972 song "The Night" by American band Frankie Valli and The Four Seasons. The original 1972 release failed to chart however it was re-released in 1975 reaching number 7 on the UK Singles Chart as a result of popularity on the northern soul circuit.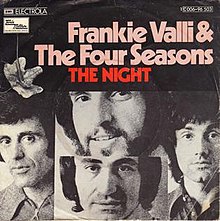 The features the lyrics "But the night begins to turn your head around. And you know your 're gonna lose more than you found" and was written by Al Ruzicka and Bob Gaudio.