The BBC have launched a new advert for a new romantic comedy drama series called 'The Pursuit of Love'. Written and directed by Emily Mortimer, the series is an adaptation of Nancy Mitford's 1945 novel. The story set in Europe between the two World Wars follows the adventures (and misadventures) of Linda Radlett, played by English actress Lily James.
We follow Linda who "believes in love, and she's passionately romantic" alongside her best friend and cousin Fanny Logan, played by Emily Beecham. Unlike fearless Emily, Linda is more about having fun than finding love.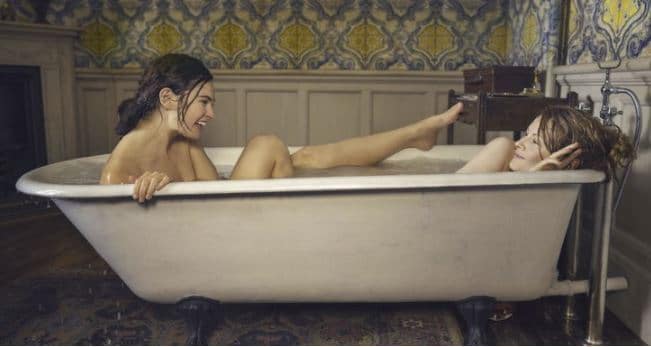 Narrated by her cousin Fanny, Linda's hunt for a husband sees her travelling from her manor home in Oxfordshire all the way to Paris in the Roaring Twenties. It's  an adventure that showcases the stark difference between the two girls.
Who else stars in The Pursuit of Love ?
Alongside Lily and Emily are a host of famous faces. Dominic West (who featured in The Affair and The Wire) and Dolly Wells (from Bridget Jones's Diary) play Linda's strict parents. Andrew Scott (from 'Fleabag' and 'our dreams') plays their neighbour, Lord Merlin. Fanny's mother, nicknamed The Bolter for her own list of romances, is played by Emily Mortimer.
The Pursuit of Love Full Cast List
Actor – Character
Lily James – Linda Radlett
Emily Beecham – Fanny Logan
Dominic West – Matthew Radlett
Andrew Scott – Lord Merlin
Dolly Wells – Sadie Radlett
Beattie Edmondson – Louisa Radlett
Emily Mortimer – The Bolter
Assaad Bouab – Fabrice de Sauveterre
Freddie Fox – Tony Kroesig
Aki Omoshaybi – Langstone Hughes
Shazad Latif – Alfred Wincham
Filming took place in Bath and Bristol throughout 2021 and the three-episode series will air from 9 May on BBC One and BBC iPlayer.
What's the music in the BBC Pursuit of Love Advert?
Music: The 'In' Crowd | Artist : Bryan Ferry
The music in the BBC The Pursuit of Love trailer is the 1974 song "The 'In'Crowd" written by American musician Billy Page and arranged by his brother Gene Page. The In Crowd was originally performed by American singer-songwriter Dobie Gray.
The version in this trailer is the recording by English singer-songwriter Bryan Ferry. Ferry's version was released as a single and reached on the UK Singles Chart.