This new 2020 advert by EE promotes 5G on their network by taking viewers to a live A.R. performance in Birmingham of a Bastille song.
The performance is being streamed to crowds of people across the UK including Birmingham, London, Liverpool and Edinburgh. EE's advert once again stars American actor Kevin Bacon who demonstrates how 5G is great for keeping mobile network users connected at busy locations. Commuters get to be a part of the world's first 5G powered AR performance with the band Bastille performing one of their hits (more details below…)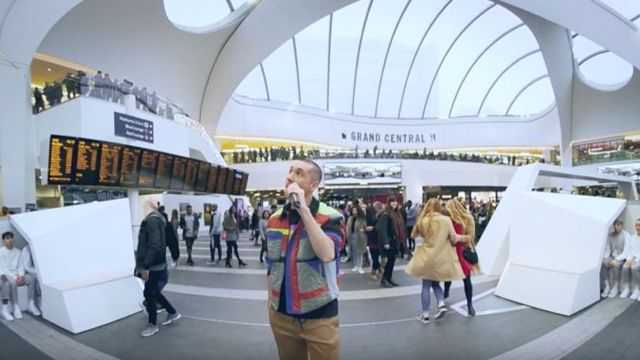 The music in the advert
Music: Pompeii | Artist : Bastille
The song being performed in the EE 5G advert is the 2013 hit 'Pompeii' by English indie pop band Bastille. The song is the fourth single from their debut studio album "Bad Blood". The track peaked at number two on the UK Singles Chart, number 5 in the US Billboard Hot 100 and also enjoyed great success worldwide.
Pompeii Lyrics
I was left to my own devices
Many days fell away with nothing to show

And the walls kept tumbling down
In the city that we love
Grey clouds roll over the hills
Bringing darkness from above

But if you close your eyes
Does it almost feel like
Nothing changed at all?
And if you close your eyes
Does it almost feel like
You've been here before?

But if you close your eyes
Does it almost feel like
Nothing changed at all?
And if you close your eyes
Does it almost feel like
You've been here before?

Nothing changed at all
Nothing changed at all

We were caught up and lost in all of our vices
In your pose as the dust settled around us

And the walls kept tumbling down
In the city that we love
Grey clouds roll over the hills
Bringing darkness from above

But if you close your eyes…
Source: LyricFind