The songs played in Love Island 2021 (Season 7)
For soundtracks from Love Island 2022 (Season 8) click here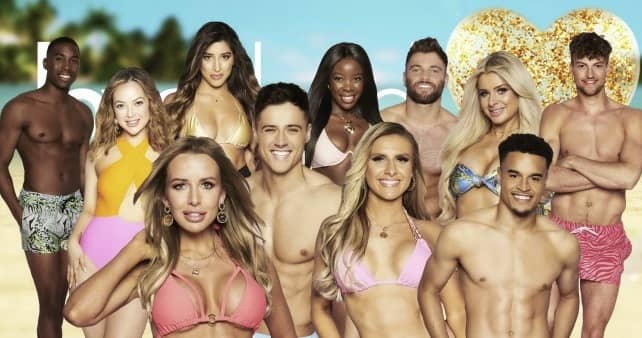 Series seven of Love Island is finally here being aired on ITV. The first batch of Love Islanders are in the stunning Love Island villa situated in Mallorca ready to keep the nation entertained over the next couple of weeks.
This series includes footballer Toby Aromolaran (who plays for a team called "Hashtag United"), civil servant Sharon Gaffka, and the show's first ever disabled contestant, Hugo Hammond. We also see  Laura Whitmore who returns to host the reality TV show.
One thing that's certain about every season of Love Island is an awesome array of background music. So we have collated all the songs and soundtracks heard throughout each episode of love Island 2021 and listed them here (latest episode at the top):
What were the songs in Love Island 2021 ?
23/08/21 – Episode 49
Becky Hill & David Guetta – 'Remember (David Guetta VIP Remix)'
Joel Corry & MNEK – 'Head & Heart'
Sonny Fodera & Ella Eyre – 'Wired'
Galantis, David Guetta & Little Mix – 'Heartbreak Anthem'
Ava Max – 'Salt'
Mabel – 'Let Them Know'
Bishop Briggs – 'HIGHER'
Bad Boy Chiller Crew – 'Free (feat. Chris Nichols)'
Switch Disco – 'Everything'
Luis Fonsi – 'Despacito (feat. Daddy Yankee)'
Dagny – 'Somebody (Acoustic)'
Ingrid Michaelson – 'Can't Help Falling In Love'
Morgan Harper Jones – 'I Wanna Dance with Somebody (Who Loves Me)'
Clinton Kane – 'I Guess I'm In Love'
Nina Nesbitt – 'Summer Fling'
PHOEBE ∆X∆ – 'Young Blood'
Anton Powers x Joe Stone – 'Do Me Right'
Little Mix & CNCO – 'Reggaeton Lento (Remix)'
Sia & David Guetta – 'Floating Through Space'
Best Friend – 'Back N Fourth'
22/08/21 – Episode 48
Cash Cash – 'Take Me Home (feat. Bebe Rexha)'
Andra Day – 'Rise Up'
Declan J Donovan – 'I'll Be There Love'
BEKA – 'My One'
Lucas & Steve – 'Another Life (feat. Alida)'
SUPER-Hi & Neeka – 'Following the Sun'
Dutchkid – 'Say'
NEEDTOBREATHE – 'I Am Yours'
summersets – 'only you (feat. Kalle Mattson)'
Dario G – 'You Make the Sunrise (feat. Leslie P George)'
Hannah Grace – 'Praise You'
Ludovico Einaudi – 'Nightbook'
20/08/21 – Episode 47
(Press ctrl-f5 to refresh this list. More songs are coming!)
Lea Heart – 'A Million Goodbyes'
Christian Reindi – 'Hurt (feat. Lloren)'
JENNA – 'The Same'
Tommee Profitt – 'Shallow (feat. Fleurie)'
Y.V.E. 48 – 'Still Think About It (Extended Mix)'
Olivia Rodrigo – 'Drivers License'
Hailee Steinfeld – 'Wrong Direction'
Karen Harding – 'It Must Have Been Love'
Calum Scott – 'Biblical'
Anne-Marie – 'Her'
Benedict Cork & Mahogany – 'Heaven Is a Place on Earth'
Anabel Englund – 'Picture Us (NERVO Remix)'
P!nk – 'A Million Dreams'
19/08/21 – Episode 46
Luz – 'i'm lonely'
Danielle Juhre – 'You & I'
Nick Wilson – 'Think Twice'
The Piano Guys – 'Rewrite the Stars'
Duomo – 'Wildest Dreams (Taylor Swift Cover)'
Harry Pane – 'Another Page (feat. Maria Franowski)'
Camila Cabello – 'Consequences'
Alex Hobson & Talia Mar – 'Good on You'
Tyler Shaw – 'I See You'
James Smith – 'Got the Love'
Sigala – 'We Got Love [Joel Corry Remix] (feat. Ella Henderson)'
Dustin O'Halloran – 'We Move Lightly'
18/08/21 – Episode 45
Christian Reindl – 'Into the Fire (Epic Remix) (feat. Lloren)'
Zoe Wees – 'Control'
Faouzia & John Legend – 'Minefields'
Natali Felicia – 'Easy Ride'
YONAKA – 'Call Me a Saint'
Strange Fruits Music, Steve Void & DMNDS – 'Mr. Saxobeat'
*NSYNC – 'Bye Bye Bye'
Sonny Fodera & Just Kiddin – 'Closer (feat. Lilly Ahlberg)'
Jason Derulo – 'Lifestyle (feat. Adame Levine)'
Boney M – 'Daddy Cool'
The Ronettes – 'Be My Baby'
Griff – 'One Foot In Front Of The Other'
Brandi Carlile – 'All You Need Is Love'
17/08/21 – Episode 44
Anne-Marie – 'Beautiful'
Tom Jones – 'It's Not Unusual'
Anne-Marie x KSI x Digital Farm Animals – 'Don't Play'
Sergio Mendes – 'Mas Que Nada (feat. The Black Eyed Peas)'
Mark Ronson – 'Uptown Funk (feat. Bruno Mars)'
BTS – 'Dynamite'
THAT KIND – 'Summer In Love'
newfamiliar – 'Here for You'
Julius Cowdrey – 'Take Me Home'
Holly Humberstone – 'Falling Asleep at the Wheel'
Coolio – 'Fantastic Voyage'
15/08/21 – Episode 43
Lucy May Walker – 'Not Around'
Hidden Citizens & Hael – 'All for One'
Summer Kennedy – 'Legends'
UNSECRET – 'No Sanctuary (feat. Sam Tinnesz & Fleurie)'
Amber Run – 'Worship'
Grafitti Ghosts – 'I'm Coming for You'
Gryffin – 'Body Back (feat. Maia Wright)'
220 KID & JC Stewart – 'Too Many Nights'
Yigaa – 'Good Enough'
Linkin Park – 'What I've Done'
Olivia Rodrigo – 'favorite crime'
14/08/21 – Episode 42
Joy Oladokun – 'Sunday'
UNSECRET – 'No Good (feat. Ruelle)'
Zara Larsson – 'I Need Love'
Kygo & Whitney Houston – 'Higher Love'
Noizu – 'Summer 91 (Looking Back)'
AJ Tracey – 'Dinner Guest (feat. MoStack)'
Cheat Codes & A J Mitchell – 'Hate You + Love You'
Anne-Marie – 'Breathing'
Lusaint – 'Crazy In Love'
Sia – 'Miracle'
The Beach Boys – 'Good Vibrations'
13/08/21 – Episode 41
Joel Corry & Jax Jones – 'OUT OUT (feat. Charli XCX & Saweetie)'
Little Mix – 'A Mess (Happy 4 U)'
Coldplay – 'High Power'
Lizzo – 'Juice'
Michael Walls – 'Fallin'
KC Lights – 'Cold Light (feat. Leo Stannard)'
Jerry Williams – 'Velcro'
Zedd & Elley Duhé – 'Happy Now'
Ciara – '1, 2 Step (feat. Missy Elliott)'
12/08/21 – Episode 40
Karen Harding & Digital Farm Animals – 'Undo My Heart'
Bonnie Tyler – 'Holding Out For A Hero'
Nathan Evans – 'Wellerman (220 KID & Billen Ted TikTok Remix)'
Mousse T. – 'Horny '98 (feat. Hot 'n' Juicy)'
Bruno Mars, Anderson .Paak & Silk Sonic – 'Leave the Door Open'
Pitbull – 'Timber (feat. Kesha)'
Camila Cabello – 'Havana (feat. Young Thug)'
Jessie J, Ariana Grande & Nicki Minaj – 'Bang Bang'
Little Mix – 'Power (feat. Stormzy)'
Nicole Scherzinger – 'Wet'
Rihanna – 'S&M'
Jessica Simpson – 'These Boots Are Made for Walkin''
Nelly Furtado – 'Maneater'
Rina Esposito & Adriano Pepe – 'Free'
HAEVN – 'Where The Heart Is'
KSHMR – 'Ready To Love'
Craig Armstrong – 'Glasgow Love Theme'
BTS – 'Butter'
John Clapper – 'Good Riddance (Time of Your Life)'
Bomfunk MC's – 'Freestyler'
11/08/21 – Episode 39
Billy Lockett – 'Hard Act to Follow'
Fleurie – 'Love and War'
Wrabel – 'Nnothing but the Love'
Post Tense – 'To Be with You'
Galantis & Hook N Sling – 'Never Felt a Love Like This (feat. Dotan)'
Dermot Kennedy – 'Dancing Under Red Skies'
Mali-Koa – 'Hunger'
Hidden Citizens – 'Nowhere to Run (Epic Trailer Version) (feat. Keeley Bumford)'
Icona Pop – 'Next Mistake (Joel Corry Extended Mix)'
Vantage – 'Think I'm In Love (feat. Todd Edwards)'
Sia – '1+1'
Halsey – 'Finally // beautiful stranger'
Blame Jones – 'Promises (Acoustic)'
Karen Harding, Future Kings & L'Tric – 'Rely'
Clean Bandit & Topic – 'Drive (feat. Wes Nelson)'
The White Stripes – 'Seven Nation Army'
10/08/21 – Episode 38
Sunset Strippers – 'Falling Stars'
LMFAO – 'Sexy and I Know It'
Tom Jones & Mouse T. – 'Sex Bomb'
Punctual – 'Imagine'
Galantis – 'Holy Water'
Clean Bandit & Mabel – 'Tick Tock (feat. 24kGoldn)'
Donna Summer – 'Hot Stuff'
Dillon Francis & Shift K3Y – 'Love Me Better (feat. Marc E. Bassy)'
Zara James – 'In the Air Tonight'
Aquilo – 'Silhouette'
Sody – 'Nothing Ever Changes'
Nathan C & Yola Recoba – 'Only Me'
Syn Cole – 'Crawl (feat. Sarah Close)'
Underworld – 'Born Slippy (Nuxx)'
09/08/21 – Episode 37
Billy Locket & Violet Skies – 'Talk (Acoustic)'
Eylie – 'Singing Without You'
Dotan – 'Numb'
Santino Le Saint – 'Sleepless Nights'
Power-Haus, Christian Rendi & Lloren – 'The Storm'
Timmy Trumpet & The Golden Army – 'Mufasa (Extended Remix)'
07/08/21 – Episode 36
Tommee Profitt – 'Undone (feat. Fleurie)'
2WEI – 'Pushin On (feat. Marvin Brooks)'
Kat Meoz – 'Trouble'
Tobtok, AKA George, Oliver Nelson – 'Something 'Bout The Music'
Sonny Fodera & Ella Eyre – 'Wired'
James Smith – 'My Oh My'
Duncan Laurance – 'Arcade (feat. FLETCHER)'
Billie Eilish – 'Ocean Eyes'
Carmody – 'Paradise'
Blame Jones – 'Love At First Sight (Acoustic)'
Captain Cuts & Zookëper – 'Do You Think About Me (feat. Georgia Ku)'
Ryan Shepherd – 'Hello Sunday (feat. Caitlyn Scarlett)'
Alok & THRDLIFE – 'Hear Me Tonight'
06/08/21 – Episode 35
LÉON – 'Falling Apart'
Dotan – 'There Will Be a Way'
EVER – 'Indigo Sky'
You Me At Six – 'Spell It Out'
Hana Lili – 'Stay'
49th & Main – 'Catching Eyes (Tom Ferry Remix)'
Georgia Twinn – 'Raccoons'
Charlie Puth – 'We Don't Talk Anymore (feat. Selena Gomez)'
Billie Eilish – 'NDA'
Miley Cyrus – 'Mother's Daughter'
Jetta – 'I'd Love to Change the World (Matstubs Remix)'
05/08/21 – Episode 34
Benny Benassi – 'Cinema (feat. Gary Go)'
UNOMAS & Daramola – 'Blessed'
Nick Wilson – 'Lead Me to the Water'
Joy Oladokun – ''Breathe Again'
Soulja Boy Tell'Em – 'Crank That'
Saint Raymond – 'Nightcrawling'
Lloren – 'The Start (Stripped)'
Gabrielle Aplin – 'Run For Cover'
04/08/21 – Episode 33
Sleeping Wolf – 'Greyscale'
Sody – 'Love's a Waste'
Clara Mae – 'Drunk On Emotions'
Dotan – 'Letting Go'
Issey Cross 'Hot N' Cold'
Avril Lavigne – 'Alone'
Sam and the Womp – 'Bom Bom'
Robin Schulz & Wes – 'Alane'
Dua Lipa – 'Love Again'
Frank Sinatra – 'You Make Me Feel So Young'
Bshp – 'Passionfruit'
Michael Baker – 'Got to Be Real'
Sarah Close 'Forgive or Forget'
Disciples – 'I Got You'
Greta Isaac – 'Like Me'
03/08/21 – Episode 32
Fleurie – 'Breathe'
Claudia Valentina – 'Seven'
Ruelle – 'Where We Come Alive'
Sarah Close – 'Only You'
Shaefri – 'Say You'll Be There'
MAX & Ali Gatie – 'Butterflies'
Royal Blood – 'All We Have Is Now'
Emily Burns – 'Latch'
Mabel – 'Let Them Know'
Mabel – 'Mad Love'
Mabel – 'Don't Call Me Up'
Voost – 'Taste of Your Love (feat. KOOLKID)'
Kygo & Sasha Alex Sloan – 'I'll Wait'
Jolen – 'Waste My Time'
02/08/21 – Episode 31
Alicia Keys – 'Love Looks Better'
mxmtoon – 'Fever Dream'
Gabrielle Aplin & Nick Wilson – 'Love Can Be So Lonely Sometimes'
Au/Ra – 'Screw Feelings'
Brick – 'Dazz (Dazz Disco Mix)'
01/08/21 – Episode 30
Matthew V – 'Always Be My Baby'
Olivia Rodrigo – 'traitor'
Zac Pajak – 'Silver Lining'
Laura Greaves & Lhotse – 'Promises'
Lea-D – 'Landscape'
Josh Daniel – 'What Is Love'
Stevie Appleton – 'Paradise (with Sam Feldt)'
Sody – 'Old Flame'
Camila Cabello – 'I Have Questions'
Harrison Storm – 'Falling Down'
The Prodigy – 'Invaders Must Die'
30/07/21 – Episode 29
Emilia Tarrant – 'Here You Are, Again'
James TW – 'Hopeless Romantics'
The Band CAMINO & Chelsea Cutler – 'Crying Over You'
Tim Halperin – 'Love On Top'
Hidden Citizens – 'Don't Speak (Epic Trailer Version) (feat. Tim Halperin)'
Matt Johnson & Blame Jones – 'For You'
Sigrid – 'Dynamite (Acoustic)'
Griff – 'Love Is a Compass'
Mimi Webb – 'I'll Break My Heart Again'
Hidden Citizens – 'Nothing Is As It Seems (feat. Ruelle)'
Jet – 'Are You Gonna Be My Girl (Alternate Version)'
29/07/21 – Episode 28
(Press ctrl-f5 to refresh. More songs are coming!)
Kodaline – 'Say Something'
Ludovico Einaudi – 'Nuvole Bianche'
Tom Speight – 'Soak Up'
LÉON – 'Chasing a Feeling'
Marshmello x Jonas Brothers – 'Leave Before You Love Me'
Sody – 'What We Had'
Marilyn Manson – 'Tainted Love'
Aaron Smith – 'In My Way'
Blame Jones – 'Young Hearts Run Free (Acoustic)'
Freya Ridings – 'Maps'
28/07/21 – Episode 27
Krimsonn – 'I Won't Lie'
Jubel – 'Dancing in the Moonlight (feat. NEIMY)'
KSI feat. Craig David & Digital Farm Animals – 'Really Love'
Bow Anderson – 'Hate That I Fell In Love With You'
Birdy – 'Loneliness'
Olivia Rodrigo – 'Butal'
Kygo & Zac Brown – 'Someday'
Summer Kennedy – 'Now's The Time'
27/07/21 – Episode 26
Sam Feldt & Sigma Feat. Gia Koka – '2 Hearts'
Dua Lipa – 'Let's Get Physical'
Timmy Trumpet & Savage – 'Freaks'
Nathan Evans – 'Wellerman (Sea Shanty)'
MIYA MIYA – 'Want You'
MOTi – 'In My Head (On My Mind)'
26/07/21 – Episode 25
James Hype – 'Good Luck (feat. Pia Mia)'
Becky Hill & Sigala – 'Heaven On My Mind'
Zara Larsson – 'Poster Girl'
VINAE & Le Pedre – 'I Was Made (Extended Mix)'
Tony Perry – 'Free for Sweet Harmony (DanceLab Mix)'
HUX – 'Lemonade'
25/07/21 – Episode 24
Anna of the North – 'Believe'
Luke Sital-Singh – 'California Blue'
Zayde Wølf – 'Still Fighting for It'
Avi Kaplan – 'Change on the Rise'
Charlotte Campbell – 'Blur'
Nathan Dawe x Anne-Marie x MoStack – 'Way Too Long'
DMNDS, Strange Fruits Music & Fallen Roses – 'Calabria (feat. Lujavo & Nito-Onna)'
Lady Bri – 'So Good'
Digital Farm Animals – 'Last Night (feat. HARLEE)'
Luz – ''The Author'
Sigala & James Arthur – 'Lasting Lover'
Wretch 32 – 'Traktor (feat. L)'
23/07/21 – Episode 23
Tiësto & Sevenn – 'Boom'
Active Child – 'All Eyes on You'
Leanna Firestone – 'Grow As We Go'
Shadowlark – 'Come Around Here'
Zara Larsson – 'Look What You've Done'
22/07/21 – Episode 22
The Hives – 'Tick Tick Boom'
Lucy May Walker – 'Without Him'
2WEI ft. Jon & Bri Bryant – 'Hit The Road Jack'
Maisie Peters – 'Daydreams'
Emilia Tarrant – 'Honeymoon Phase'
Daya – 'The Difference'
Olivia Rodrigo – '1 step forward, 3 steps back'
Papa Zeus – 'Can't Stop (Oh No)'
Zayde Wølf – 'Madness'
Shaefri – 'Home'
Birdy – 'Surrender'
The Paper Kites ft. Lucy Rose – 'For All You Give'
Delilah Montagu – 'Lost Keys'
Royal Deluxe – 'Fighter'
21/07/21 – Episode 21
Sonny Fodera & KOLIDESCOPES – 'Nah (feat. Sinead Harnett)'
London Grammar – 'Lose Your Head'
Michael Baker – 'Ferris Wheel'
Maisie Peters – 'Favourite Ex'
Kat Leon – 'Survive'
Ruelle – 'The Other Side'
Hidden Citizens – 'It's a Sin (Epic Trailer Version)'
20/07/21 – Episode 20
London Grammar – 'Call Your Friends'
Zayde Wølf & Fjøra – 'Hurricane'
Majestic x Boney M. – 'Rasputin'
Tom Grennan – 'Little Bit of Love'
Jerry Williams – 'Babe'
Harddope & Callum Beattie – 'Lost Souls'
The Weeknd – 'Save Your Tears'
GRACEY – 'Somebody That I Used to Know'
Billie Eilish – 'Lost Cause'
Missy Elliott – 'We Run This'
19/07/21 – Episode 19
Julia Michaels – 'Little Did I Know'
The Pussycat Dolls – 'React'
DNCE – 'Kissing Strangers (feat. Nicki Minaj)'
Kygo & Tina Turner – 'What's Love Got to Do with It'
Ava Max – 'Kings & Queens'
Carly Rae Jepsen – 'This Kiss'
Tungevaag – 'Young Summer (Extended Mix)'
A7S – 'Nirvana'
Michael Calfan – 'Imagining (feat. Gabrielle Aplin)'
Jay Pryor – 'By Now'
Oasis – 'Fuckin' in the Bushes'
18/07/21 – Episode 18
UNSECRET – 'No Good (feat. Ruelle)'
Oliver Heldens & Party Pupils – 'Set Me Free (feat. MAX)'
Lady Bri – 'It's Like Whoa!'
Le Pedre – 'Gimme! Gimme! Gimme! (A Man After Midnight)'
Cats the Musical – 'Memory'
Tinie Tempah – 'Whoppa (feat. Sofia Reyes & Farina)'
Robin Schulz – 'In Your Eyes (feat. Alida)'
Joji – 'Run'
Billie Eilish – 'When the party's over'
Sigala & Becky Hill – 'Wish You Well (Acoustic)'
JC Stewart – 'Loud'
Zella Day – 'East of Eden'
Tom Speight – 'Medicine'
Mimi Webb – 'Dumb Love'
Hidden Citizens – 'Here We Stand (feat. Svrcina)'
JAY-Z & Kanye West – 'Ni**as in Paris'
16/07/21 – Episode 17
Royal Deluxe – 'Revolution'
The Phantoms – 'Stronger (feat. Black Violin)'
Secondcity & Paul Woolford – 'All I Want (feat. Andrea Martin)'
Tones And I – 'Cloudy Day'
Emma McGrath – 'Fall with You'
Sigala & Shaun Frank & Flo Rida – 'You Don't Know Me (feat. Delaney Jane)'
Tom Speight – 'Save Tonight (feat. Lydia Clowes)'
beaux – 'I Don't Want to Make It Alone, I Want to Make It with You'
Noizu – 'Summer 91 (Looking Back)'
Layla – 'Oh My Love'
Justin Bieber – 'Holy (feat. Chance the Rapper)'
Good Charlotte – 'Lifestyles of the Rich & Famous'
15/07/21 – Episode 16
MK – '2AM (feat. Carla Monroe)'
KOLIDESCOPES & Gavin James – 'All for You'
Holly Humberstone – 'The Walls Are Way Too Thin'
Anne-Marie x KSI x Digital Farm Animals – 'Don't Play'
Zayde Wølf – 'Cold-Blooded'
Chase & Status – 'Let You Go (feat. Mali)'
14/07/21 – Episode 15
Miley Cyrus – 'Gimme What I Want'
Majestic – 'Me & U (feat. Kelsey)'
Chumbawumba – 'Tubthumping'
Dua Lipa – 'Don't Start Now'
S Club 7 – 'Reach'
Drenchill – 'Freed From Desire (feat. Indiiana)'
Jet – 'Are You Gonna Be My Girl?'
DJ Ötzi – 'Hey Baby'
Sigala & Rita Ora – 'You for Me'
Gabrielle Aplin & JP Cooper – 'Losing Me'
Naomi Kimpenu – 'Only'
Matthew Nolan – 'Don't Cry Over Me'
Rhys Lewis – 'The Sun Will Rise'
Tim Halperin – 'The Reason'
Nirvana – 'Heart-Shaped Box'
13/07/2021 – Episode 14
(press ctrl-f5 to update the list, more songs are coming…)
Barns Courtney – 'Champion'
Mountains Vs. Machines – 'The Time Is Now'
Zayde Wolf – 'Breathing Oxygen'
Blithe – 'Say Your prayers'
Phobia – 'Nothing But Thieves'
Mr. Belt & Wezol & Jack Wins – 'One Thing (Extended Mix)'
BEKA Feat. HONNE – 'More Than Friends'
NEEDTOBREATHE – 'Seasons'
Parx – 'Finally'
Tones & I – 'Fly Away'
Voost Feat. KOOLKID – 'Taste Of Your Love (Club Mix)'
Charlotte Campbell – 'Mr. Brightside'
Clément Loroux Feat. Emma Hoet – 'You Got My Heart'
Frances – 'Grow'
Kygo & OneRepublic – 'Lose Somebody'
Traffic – 'Dear Mr. Fantasy'
12/07/2021 – Episode 13
Tom Walker – 'Better Half of Me'
Robin Schultz Feat. Francesco Yates – 'Sugar'
Tom Walker – 'All Of Me'
Young Bombs Feat. Aloe Blacc – 'Better Day'
Galantis & Hook N Sling – 'Love On Me'
Bakermat – 'Baby'
DNCE – 'Cake By the Ocean'
Oliver! The Musical – 'Food Glorious Food'
Sam Feldt – 'Home Sweet Home (feat. ALMA & Digital Farm Animals)'
Kygo – 'Happy Now (feat. Sandro Cavazza)'
Hannah, Grace & Sonny – 'What's Up'
Astrid S – 'Favorite Part of Me'
Sam Tinnesz – 'Play with Fire (feat. Yacht Money)'
Hidden Citizens – 'Take Over (feat. Ruelle)'
Dylan Fraser – 'The Storm'
Calvin Harris – 'Summer'
Declan J Donovan – 'Anymore'
AURORA – 'Dance on the Moon'
RUELLE – 'I Get to Love You'
7kingZ – 'Survival (Hunt You Down)'
Mimi Webb – 'Reasons'
Star.One – 'Won't Hold Back'
Britney Spears – 'Work Bitch'
11/07/2021 – Episode 12
Everyone You Know & Joy Anonymous – 'Just for the Times'
Kaylar – 'Only You Could Do (feat. Nala)'
Declan J Donovan – 'Fallen So Young'
Rae Morris – 'Someone Out There'
thisisNAMASTE – 'I Like Your Face'
Snøw, Rxseboy & Jack Cullen – 'Spilled My Coffee'
Zella Day – 'Hypnotic'
Gang Starr – 'Work'
09/07/2021 – Episode 11
(Press ctrl-f5 to refresh the list)
Jonas Blue, AWA – 'Something Stupid'
Rhys Lewis – 'Some Days'
Tim Halperin – 'The Boys of Summer'
Tate McRae – 'You broke me first'
08/07/2021 – Episode 10
Dr Dre – 'Talking To My Diary'
Kima Otung – 'Head & Heart'
Rhys Lewis – 'Better Than Today'
Samuel Jack – 'Feels Like Summer'
Tinie Tempah (feat. Sophía Reyes & Farina) – 'Whoppa'
Sigala & James Arthur – 'Lasting Lover'
Jax Jones (feat. Demi Lovato & Stefflon Don) – 'Instruction'
Little Mix – 'Confetti (feat. Saweetie)'
Dua Lipa – 'Hallucinate'
Girls Aloud – 'Sexy! No No No…'
Jason Derulo – 'Get Ugly'
Galantis & Throttle – 'Tell Me You Love Me'
07/07/2021 – Episode 9
(Press ctrl-f5 to refresh the list)
Bebe Rexha – 'Sabotage'
Celeste & MK – 'Stop This Flame (Celeste x MK)'
PS1 – 'Fake Friends (feat. Alex Hosking)'
Lecrae & Andy Mineo – 'Coming In Hot'
06/07/2021 – Episode 8
Imagine Dragons – 'Wrecked'
B15 Project feat. Crissy D & Lady G – 'Girls Like Us'
Royal Blood – 'Trouble's Coming'
Sigala Feat. Kodaline – 'All For Love'
Ingrid Michaelson, ZAYN – 'To Begin Again'
Charlotte Lawrence – 'Why Do You Love Me (Acoustic)'
Galantis, David Guetta & Little Mix – 'Heartbreak Anthem'
The Rolling Stones – 'Paint It, Black'
05/07/2021 – Episode 7
Ella Eyre – 'Don't You Want Me (For Nest Audio Sessions)'
Silk City – 'New Love (feat. Ellie Goulding)'
Tensnake – 'Strange Without You (feat. Daramola)'
Tommy Ashley – 'Latch'
Galantis – 'Pillow Fight'
Tim Halperin – 'All I Need'
Masie Peters – 'John Hughes Movie'
Madison Beer – 'Effortlessly'
Tones & I – 'Bad Child'
Mariana BO – 'Feeling Good'
04/07/2021 – Episode 6
Royal Deluxe – 'We're in the Wild Now'
ATB, Topic, A7S – 'Your Love (9PM)'
Icona Pop – 'Feels In My Body'
Etta James – 'I Just Wanna Make Love To You'
Ofenbach vs. Nick Waterhouse – 'Katchi'
Hot Chocolate – 'You Sexy Thing'
Purple Disco Machine – 'Dished (Male Stripper)'
Majestic – 'Me & U (feat. Kelsey)'
Shirley Bassey – 'Get The Party Started'
David Guetta x John Newman x Mistajam – 'If You Really Love Me (How Will I Know)'
YG – 'In The Dark'
Gregory Porter 'Revival (Roman Kouder Remix)'
Kygo & Zak Abel – 'Freedom'
Freya Ridings – 'Ultraviolet'
Status Quo & The Beach Boys – 'Fun Fun Fun'
02/07/2021 – Episode 5
Laura Greaves – 'Psychopath (feat. Khwezi & Lhotse)'
Ruelle – 'Bad Dream'
Lyra – 'Falling'
Tiësto – 'The Business (Robert Cristian Remix)'
Riton x Nightcrawlers – 'Friday (feat. Mufasa & Hypeman) [Dopamine Re-edit]'
Joel Corry, RAYE & David Guetta – 'BED'
Anne-Marie & Niall Horan – 'Our Song'
01/07/2021 – Episode 4
Zayde Wolfe – 'Rumble'
Freedo & DJ Katch – 'So Sick'
Red Moon – 'Dreamer'
Olivia Rodrigo – 'Enough for you'
Cat Marina – 'Girlfriend'
CLiQ – 'Wavey (VIP Mix) (feat. Wiley, Alika & Double S)'
Winona Oak – 'Winter Rain'
30/06/2021 – Episode 3
Jodie Harsh –  'My House'
Zayde Wølf –  'Let's Go'
Ed Sheeran –  'Bad Habits'
Dua Lipa –  'Levitating'
Rina Sawayama –  'Lucid'
Hamzaa –  'Sunday Morning'
Georgia & David Jackson –  'Get Me Higher'
One Bit –  'Luv U So'
Glass Animals –  'Heat Waves'
Mimi Webb –  'Good Without'
John Legend –  'Conversations In The Dark'
29/06/2021 – Episode 2
Dermot Kennedy –  'Heartless (Recorded At Rak Studios)'
PS1 –  'Life Goes On (feat. Alex Hosking)'
Dua Lipa –  'Hotter Than Hell'
James Newman –  'Embers'
Years & Years –  'Starstruck'
Ava Max –  'My Head & My Heart'
Demi Lovato –  'Cool for the Summer'
Lizzo –  'Good As Hell'
Riton & Bad Boy Chiller Crew –  'Come with Me'
ALMA –  'Good Vibes (feat. Tove Styrke)'
Zara Larsson –  'WOW'
KALEO –  'Break My Baby'
Olivia Rodrigo –  'Jealousy, Jealousy'
Mandeville –  'Do It Again'
28/06/2021 – Episode 1
PEAKS! –  'Blackout'
Cardi B –  'Up'
Little Mix –  'Sweet Melody'
Justin Timberlake –  'Filthy'
HRVY & Matoma –  'Good Vibes'
Jonasu –  'Black Magic'
Alok & Daniel Blume –  'Rapture'
Calvin Harris –  'By Your Side (feat. Tom Grennan)'
Ella Henderson –  'Take Care of You (Acoustic)'
John Gibbons & Franklin –  'Let Me Love You'
Vice –  'Obsession (25/7) (feat. KYLE & Jon Bellion)'
Joel Corry & MNEK –  'Head & Heart'
Wyles & Architechs –  'Body Groove (feat. Crystxl King)'
Lucas & Steve –  'I Want It All'
Pascal Letoubin –  'Feelings Undercover'
The Magician & Wuh Oh –  'LIFE'
NERVO & Carla Monroe –  'Gotta Be You'
Mabel –  'Let Them Know'
Navos –  'Believe Me'
Becky Hill –  'Last Time'
Shane Codd –  'Get Out of My Head'
Nathan Dawe x Little Mix –  'No Time for Tears'
Tobtok, Milwin & Alfie Cridland –  'New Levels (feat. Mila Falls)'
Paul Woolford & Amber Mark –  'HEAT'
Jonas Blue & LÉON –  'Hear Me Say'
Cedric Gervais x Franklin –  'Everybody Dance (feat. Nile Rodgers)'
Switch Disco –  'Everything'