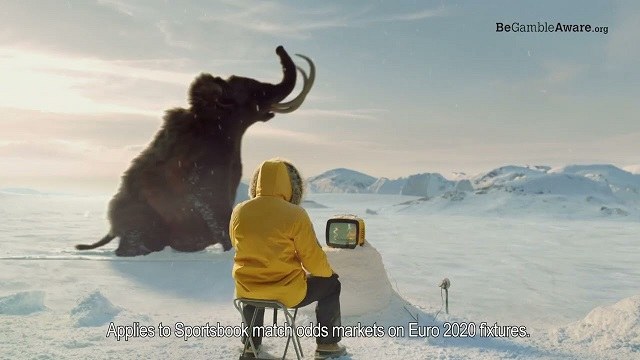 This new Betfair 2021 advert that's airing during the EURO 2020 tournament highlights that the betting company are getting rid of cash out suspensions on match odds.
The ad features a mammoth breaking free from a huge block of ice before celebrating with a slide across the snow and ice on to a football pitch. The ad concludes with a voice-over saying "because we're Betfair".
The music in the Betfair Euro 2020 mammoth advert
Music: Right Here, Right Now| Artist : Fatboy Slim
The music playing in the 2021 Betfair advert is the 1999 dance song 'Right Here, Right Now' that was released by British producer and DJ Fatboy Slim (real name Norman Cook). Released as a single, the song peaked at number 2 in the UK Singles Chart. The track was released as the fourth single from Slim's second studio album "You've Come a Long Way, Baby".
The string melody of the song was sampled from the James Gang song "Ashes, the Rain & I". The lyrics "right here, right now" are a sample of Angela Bassett's voice saying "This is your life, right here, right now!" from the film 1995 Strange Days.
Listen to the full track on Fatboy Slims official YouTube video below: