This new Paco Rabanne advert promotes their latest women's Eau de Parfum, Lady Million. This follows a similar format to their previous 1 Million and Lady Million campaigns.
Once again the ad is set in black and white and stars a selection of male and female models clicking their fingers while dancing to the music…
The music in the Paco Rabanne Lady Million advert
Music: Rapper's Delight | Artist : The Sugarhill Gang
The music in the latest Paco Rabanne Lady Million advert is a song called Rapper's Delight released in 1979 by hip hop group Sugarhill Gang.
The track is credited for introducing hip hop music to a wide audience.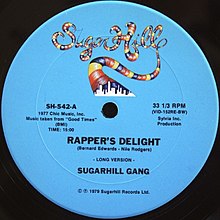 In fact it's considered so important culturally that the song was preserved in the National Recording Registry by the Library of Congress in 2011.