The music in this M&S advert is taken from a classic Donna Summer hit song. It's the retailer's first TV advert specifically promoting its denim range. The commercial sees a cast of characters dancing in open fields as the sun sets. This comes as a sequel to the festive M&S adverts "Go jumpers" and "Go pyjamas" which featured House of Pain's "Jump Around", another highly successful, classic pre-90s dance song.
In time for valentine's day, the advert invites viewers to "Start a denim love affair" with the UK's market leader for womenswear denim. The commercial showcases jeans, jackets and denim shirts.
The music in the advert
Music: I Feel Love | Artist : Donna Summer
The 2020 M&S advert music is the 1977 dance hit "I Feel Love" by American singer, songwriter and actress Donna Summer. The song was initially released in May 1977 as a B-side to the single "Can't We Just Sit Down (And Talk It Over)" which reached number 20 on the US R&B chart. The track also featured on Summer's fifth studio album, "I Remember Yesterday"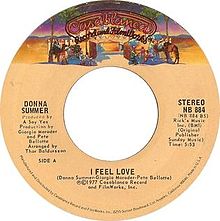 In July 1977, "I Feel Love" was re-released as the A-side instead and became a huge hit reaching number one in Australia, Austria, Belgium, the Netherlands and the United Kingdom and number six on the US Billboard Hot 100.
The song went on to influence some of the greats of the music industry including David Bowie, Brian Eno, the Human League, and Blondie.